---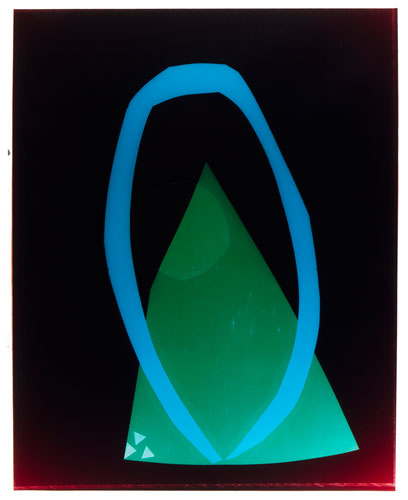 ---
Liz Nielsen
Born in 1975, Liz Nielsen's unique photographic works draw from a number of different experiments and experiences. The influence of Ellsworth Kelly and color field painters are inherent in her practice as are collage and varying urban landscapes. In her most recent body of work which she refers to as "compositions," Nielsen created unique chromogenic prints by cutting colored gels, placing them onto glass slides in various arrangements and then using that as the negative. She then enters the darkroom in blindness to experiment with time and exposure. The effect is both organic, playful, and intuitive.
Nielsen's presentations and inventions turn the outer world inward, making one world into two and interchanges the subjective with the objective. She layers and intersects shapes, lines, and colors that are found in both created and pre-existing landscapes; each revealing connections that may otherwise go unnoticed. Inwardly, these images, places and spaces fall flat and locations become ambiguous. Time exists outside of the frame.
She earned her MFA from the University of Illinois at Chicago in 2004 and her BFA from The School of the Art Institute of Chicago in 2002. Nielsen's works have been reviewed in The New York Times, Wall Street Journal and Art Slant. Her works have been exhibited in group exhibitions, including David Zwirner, New York; Schalter, Berlin; and Lisa Boyle Gallery, Chicago. Her works have been acquired by the Progressive Art Collection and has a selection of works on display at the Steven Alan boutique in Chelsea. She had her first solo exhibition with Benrimon Contemporary in March 2013. Most recently, her work is on display at the Interlochen Center for the Arts in Interlochen, Michigan and will have a solo booth in the Exposure section of ArtExpo Chicago in September 2013.
The artist currently lives and works in Brooklyn, New York.